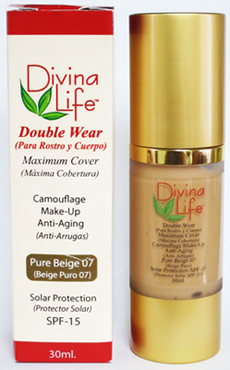 Es un maquillaje líquido de textura suave y alta cobertura. Esta especialmente formulado para cubrir: imperfecciones de la piel, cicatrices de acné, manchas de nacimiento, y manchas del sol. Ayuda ha reducir la apariencia de líneas finas y proporciona un acabado perfecto e natural sin la sensación de llevar maquillaje. Es fácil de aplicar y deja la piel fresca, revitalizada y radiante. Para pieles normales o mixtas. Contiene suaves agentes botánicos, anti-oxidantes y anti-irritantes.

Ingredients:
The information in this page has not been evaluated by the Food and Drug Administration (FDA).
These products are not intended to diagnose, treat, cure, or prevent any disease. Always consult your doctor.
©Copyright 2008 DivinaLife, Inc. All right reserved.